Texas Rangers 1841
---
The following is a Muster Roll of a Spy Company of the Texas Rangers in 1841. Jack Hays, i.e. John Coffee Hays, is the commander of the unit. Texas was full of rumors that Mexico would soon invade Texas and the Republic of Texas had authorized 3 Ranger units to scout for that invasion. Hays had 1 of the three units stationed in San Antonio. Each Unit was authorized 15 men, but Hays had a hard time enlisting a full unit as reflected by the Muster Roll. The Unit also performed other Ranger functions besides scouting the area from San Antonio to South as far as to the Rio Grande. Commanche Indians were a constant threat on the frontier and San Antonio was the frontier of Texas at this time. Additionally, Mexican bandits and thieves were a problem as well. The Rangers had their hands full and the men that composed this group of early Rangers were some of the best at their trade. Many as identified in various sketches I have gathered below have become legendary in Texas History.
Captain John C Hays. Hays is considered by many to be the first Texas Ranger who established the Ranger legacy in Texas. The Ranger tradion was established in Texas before the Republic of Texas came about, but Jack Hays was the first living Legend. Many Texans were grateful to Hays and his early Rangers because they alone stood between anarchy and some resemblence of a country able to protect its citizens.

Hays' legend is unparalleled in Western history in my opinion.No other western figure matches the ability and bravery of John Coffee Hays.

William Hesskew, my Great Great Grandfather, rode with Hays during the enlistment period. Hays evidently used the phonectic spelling of his name when he listed him on the rolls, as William Escew. I have reserched some of the actions of this Ranger group during the period of January 1841 through April 1841.
I have listed in Red Print below excerpts of various books which are associated with this time period and would reflect what the Rangers and Wm. Heskew may have participated in.
This is all based on a couple of assumptions. 1. That the Wm. Eskew below is in fact William Heskew and that 2.that Wm. was infact with the Rangers at the time the story is told. The premise for assuming he was is based on the Muster Roll and the time period he served. He may well have participated in some of the other incidents listed below but I need to research that more thoroughly. I have identified Several of his Co- Spies below and plan to research their lives further as I have already done with the Jett boys
Jan –May of 41 Capt. Hay's Spy company
Various documents reviewed state that Hays and his company of 11 (2 men joined in March) men met with Captain Price on the Nueces River shortly after being formed. They were spying for Mexican activity as well as scouting for Indians.
Subsequent to the meeting with Price, Hays and his men rode on to the Rio Grande. After returning to San Antonio, the Rangers were informed of a large Commanche Raiding party about 70 miles west of San Antonio. Although they could not take on that large a group, when 12 warriors broke away from the group, Hays and his men attack the Indians who broke for a cedar brake. The Rangers followed them into the brush and although the Indian's bows were limited in the dense brush, the Rangers were able to make short work of the Indians.
In the process, 2 of Hays' Rangers were injured and they used litters to return them to San Antonio.
After this engagement, the Rangers headed to Laredo to deal with Mexican Bandits who had been preying on merchants between San Antonio and Laredo. There was a substantial shoot out with superior Mexican forces, but a last the Rangers triumphed.
13 men are listed below excluding Hays
# 1. PASQUALE LEO BUQUOR later became Mayor of San Antonio -
( listed as P. L. Buquor ) See City of San Antonio Officers 1837 - 1983
#2 Chevalier (Chevallie) M.( Mike) - Was a close friend of Hays and accompanied him during the War with Mexico in 1846
#3 Davis, E. H. - Probably "Alligator " Davis - Said to have wrestled an Alligator to a draw on the Medina River ( See Pages 55 "Texas Ranger - Jack Hays in the frontier Southwest" by James Kimmon Greer)
#4 Escew, Wm. ( William Hesskew )
# 5 is Fitzgerald , A(rchibald)
# 6 FOHR, PETER-----Pvt. later Killed in a fight between Jack Hays' Rangers and Indians, June of 1844.
#7 Harbert N(athaniel)
#8 Thomas Hancock
#9 Stephen Jett later Killed at the battle of Salado in 1842
#10 James Madison Jett
#11 Small, William B - Was a witness at Wm. Hesskew's wedding in Dec 1844
#12 Attwell W. H.
#13 Truehart ( Trueheart ) , James (1815-1882). James L. Trueheart (Truehart), Perote prisoner and diarist, son of George Washington and Fanny (Overton) Trueheart, was born on August 12, 1815, in Virginia. He moved to Texas in 1838 and settled at San Antonio, where he became clerk of the district court in 1841. When the entire court was captured in September 1842 by Mexican troops under Adrián Woll,qv Trueheart was taken to Mexico with other prisoners and incarcerated for two years. During the period he was held in Perote Prisonqv he kept a diary that was edited by Frederick C. Chabotq and published in 1934 as The Perote Prisoners. Trueheart reached Veracruz on his way back to Texas on March 29, 1844, and by September 1844 was again acting as district clerk. He also had a real estate business that represented eastern interests in San Antonio. He was elected county assessor and collector in October 1846, and in 1848 became county clerk, a post he held until 1850. He married Petra Margarita de la Garza on February 15, 1848. By the marriage he became owner of a tract on the San Antonio River on which was located San Francisco de la Espada Mission. He improved the land, built an irrigation system, and placed a number of families there on small farm plots. He died in San Antonio on November 30, 1882. BIBLIOGRAPHY: A Twentieth Century History of Southwest Texas (2 vols., Chicago: Lewis, 1907). Rennard B. Copeland. http://www.tsha.utexas.edu/handbook/online/articles/view/TT/ftr14.html
---
In addition to Wm Small above who was in attendance at Wm Hesskew's wedding in 1844,
W I Riddle was another Witness at Wm. Hesskew's wedding. His Wife's cousin later married Jack Hays
The Texas Rangers
by Walter P Webb
THE CAPTAIN COMES: JOHN C. HAYS
EARLY SERVICE IN TEXAS
Thus far there had developed no well-recognized and permanently established corps of Rangers. There were no captains, apart from the regular military establishment, who were looked to for protection, who were always ready to ride on the Indian trail. There were a number of men fitted to do this, chief among them perhaps being Matthew Caldwell and Edward Burleson, but both belonged to the army. When Houston became president, he practically abolished the regular military force in the name of economy. There was one point, however, that always needed some sort of military force, and that was San Antonio. Every Mexican force that entered Texas struck or hoped to strike that place, and it had to be guarded constantly. The man who was finally selected to perform this task was John Coffee Hays.
John C. Hays, known in Texas as Jack Hays, was born at Little Cedar Lick, Wilson County, Tennessee, on January 28, 1817. He was from the same section of the country as the McCullochs, Sam Houston, and Andrew Jackson, and was the same adaptable sort of person. It is said that Jackson purchased the Hermitage from Jack Hays's grandfather, John Hays, who served with Jackson in some of his Indian wars, and who built Fort Haysboro. Jack's father, Harmon Hays, also fought with Jackson and named his son for General John Coffee, one of Jackson's trusted officers.
Hays came to Texas in 1837 or in the early part of 1838 — then about twenty-one years of age — and took up his residence at San Antonio. Some accounts say that he joined the Texas Rangers and fought Indians and Mexicans under Deaf Smith and Henry W. Karnes. ( Note We have accounts were Moses Heskew rode with Hays and Karnes in 1839. )In February, 1840, a group of San Antonio citizens recommended him to President Lamar as one competent to survey the boundary of Travis County in which Austin, the capital, had just been located. 'He is a gentleman of purest character and of much energy and ability. He is by profession a surveyor, and has been employed as such in this
Page 67
Page 68 – Picture of Hays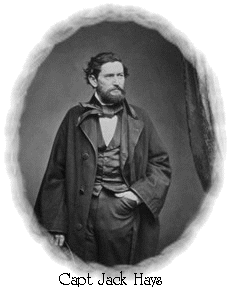 county for the two last years and has shewn himself fully competent to any work in his line.1 The first record of military service was his participation in the Plum Creek fight, but there is nothing to indicate that he distinguished himself there. He must have shown much courage and ability, however, for in 1840 he became a captain of a company in San Antonio and below. Captain John T. Price, in charge of a spy company, or Rangers, was sent to the Nueces in January, 1841, to watch the movements of Canales, Vasquez, and Variel, who were operating in that region. Price wrote that he reached the Nueces on January 9, where 'I met with Capt. Hays, who had passed down that river from the mouth of the Frio. 2 Evidently Hays received his appointment in 1840, under the administration of Lamar. He held it continuously until after the Mexican War, and under his leadership the best tradition of the Texas Rangers was established.
While the Texans were exterminating Cherokees and waging relentless war with Comanches, conditions were getting very bad on the Mexican border. Northern Mexico has always been the rallying point for revolutionists, for the party out of power. The constant rumors of invasion kept the southwestern border, and especially San Antonio, in constant apprehension. These were the conditions, which sent John T. Price and John C. Hays to the Nueces early in 1841.
The first expedition that Hays made as captain was to Laredo. ( Possible March of 41 ) Here he acted with his characteristic boldness and judgment. He entered the town, captured some horses, intimidated the Mexican soldiers, and then withdrew to a camp on the outskirts. The next day Hays returned the horses and told the Mexicans that he had not taken them with a view of carrying them off, but merely to let the Mexicans know that the Texans would retaliate on them for any raids or robberies they committed)
In the next expedition, made in April 1841, Hays took more vigorous measures. A considerable trade had sprung up on the Mexican border between the Texans and Mexicans. The traders brought into San Antonio beans, sugar, flour, leather, shoes, and saddles, to exchange for calico, bleached and unbleached, tobacco, and American hardware. Early in 1841 two of these traders left San Antonio with a heavy cargo and were attacked by a band of freebooters under Agaton. Hays
1 C. Van Ness to Lamar, February 15, 5840, Lamar Papers, Vol. v, pp. 409 f.
2 John T. Price to Branch T. Archer, January 23, 1841, Journals of the House of Representatives of the Republic of Texas, Fifth Congress, First Session, Appendix, p. 444.
3 President M. B. Lamar collected material preparatory to writing a history of Texas. Among the note, are sketches by various characters, including one by Hays. It is stated here that Hays served with Henry W. Karnes in 1839 in the spy service. It is also stated that Price and Hays's spy companies were organized in the spring of 1840 because of rumors of Indian and Mexican invasions. Lamar Papers, Vol. IV, Part 5, pp. 231 ff.
69
Let out immediately with twelve Americans, including himself, and thirteen Mexicans under Captain Antonio Perez, a daring Indian fighter and citizen of San Antonio. On their way down, they stopped at Antonio Navarro's ranch to bury two Mexicans killed by the Comanches a day or two before. On the third day out, an express rider passed post-haste in the night carrying the news from San Antonio that the Texans were coming. The result was that the Rangers were met ten miles from Laredo on April 7 by Captain Garcia with a party of about thirty-five men who had come out to capture the gringos. They rode up to the Texans sounding a bugle, made an attack, crying out to Hays and his men to surrender or they would be overwhelmed by superior forces. Some shots were exchanged, and the Mexicans withdrew, leaving one dead on the field. The six-shooter, which enabled men to fight on horseback, was not yet in use, and in the fight that followed, the Texans would dismount, charge the Mexicans, then mount and follow. Finally, the Mexicans dismounted and made a stand, the Texans charged, drove them from their position, and captured their horses. The Mexicans grounded their arms and called for quarter, with the exception of the captain and three wise men who remained on horseback. The Rangers found three dead and three wounded on the field, took twenty-five prisoners and twenty-eight horses with saddles and bridles. Captain Garcia carried the news of his defeat to Laredo with the result that consternation prevailed and many of the residents jumped the river.' The alcalde came with a white flag to beg that the Texans spare the town and to accede to any demand that might be made. Hays told him that all he wanted was Agaton and protection for the traders to San Antonio. The Rangers, who had received no injuries, then set out for San Antonio with their prisoners. 4
Hays was equally effective against Indians, as is illustrated by the story of an expedition he made in the summer after Indians who had been committing depredations and stealing horses around San Antonio, Gathering a force of thirty-five men, fifteen Americans and twenty Mexicans, Hays set out for the Indian country. The Indian trail led towards the mouth of Uvalde Canyon, and when within two miles of that place the Rangers came upon a party of ten Indians, which they had located by the flock of buzzards that always hung over an Indian camp. Hays and a Mexican crept up close and found the strength and situation of the Indians. The Rangers attacked and the
4 The above account is based on two account., found in Ford's Memoirs (MS.). One is Hays's report to Branch T. Archer, secretary of war, dated April 14, 1841, which Ford says was published in The Austin Sentinel, April 22, 1841; the other is by P. L. Buquor, said to have been published in The Floresville Chronicle.
Page 70
Indians fled to a thicket. What happened in the thicket we have in Hays's own words: 'The Indians had but one gun, and the thicket being too dense to admit their using their arrows well, they fought under great disadvantage but continued to struggle to the last, keeping up their warsongs until all were hushed in death. Being surrounded by horsemen, ready to cut them down if they left the thicket, and unable to use their arrows with much effect in their situation their fate was inevitable — they saw it and met it like heroes. They were twelve Indians — ten were killed — and two taken prisoners; one of them being desperately wounded and the other a squaw.' 5
Returning to San Antonio, Hays increased his force to fifty men and enlisted Flacco and ten Lipan warriors and again started in pursuit of the main tribe of Indians. This expedition resulted in what is known as the Battle of the Llano. Hays came upon the encampment just as the Indians were preparing to march, the approach of the Rangers having been reported to them. With twenty-five men Hays attacked about one hundred warriors, who had placed themselves between the Rangers and the women and pack-horses. In the running fight that ensued, the Indians had several killed, which they bore off the field. It was in this battle, the date of which is unknown, that Hays's horse ran away with him, carrying him entirely through the Indian lines. Flacco, who was a great favorite with the Texans, dogged Hays's heels, and now set out after him thinking he was making a charge. The result was that Ranger captain and Indian chief went flying through the Indians' lines and came out on the other side, rode around the flank and joined their comrades. Flacco remarked, after the excitement was over, that he would not be left behind by anyone, but that Capitan Jack, as the Indians called him, was 'bravo too much.' 6
Following the battle of Plum Creek, the Indian troubles, though ever present, assumed minor importance in comparison with events on the Mexican front. Between June, 1841, and September 1842, Texas sent two expeditions into Mexico and Mexico sent two into Texas.
The first, most ambitious, and ill-advised of these was the Santa Fe Expedition which left its rendezvous on Brushy Creek near Austin about June 20, 1841, bound for New Mexico. The Texans sanguinely hoped to take over Santa Fe by negotiation and open a trade from Texas similar to that flowing across the Plains to Missouri. There was
Hays's notes in Lamar Papers, Vol. xv, Part 5, pp. 233—234. ~ similar account is in the Caperton manuscript. Hays's official account of the fight, dated July 1, 1841, is in Ford's Memoirs, purported to be copied from The Austin Sentinel.
Lamar Papers, Vol. xv, Part x, pp. 234—235; Caperton, Sketch of John C. Hays, Texas Ranger (MS.).
71
hardly a settlement between Austin and Santa Fe save wild Indians of the Comanche and Apache breed. Part of the country is a desert. and water was scarce over several hundred miles of it. Not a Texan in the party had ever been to Santa Fe and not one knew more about its location than that it lay across the Plains to the northwest. Thus poorly equipped and prepared, the Texans set out on what Andrew Jackson in a letter to Sam Houston later called 'The wild-goose campaign to Santa Fe.' After many trying adventures and much suffering, the Texas reached their destination, broken, dispirited, desperately hungry, and almost dying with thirst. The Mexicans received them with open arms — a la Mexicano, threw them in prison and sent them to the interior. Occasionally one was shot, but the survivors gradually made their way back to Texas.7
In retaliation Mexico sent General Rafael Vasquez to capture San Antonio in March, 1842. At the time Hays was in the neighborhood with about one hundred men, mostly from Gonzales. Vasquez remained in San Antonio only two days when he withdrew and marched back to the Rio Grande, followed by Hays, who had not sufficient strength to attack him.
In July, James Davis, commanding two hundred volunteers, including a company of gunmen under Captain Ewen Cameron, was attacked near Lipantilican by General Canales with a force of two hundred regulars and five hundred volunteers or rancheros. The Mexicans, after twenty minutes of fighting, withdrew leaving three dead on the field.8
The capture of San Antonio in March and the clash with Canales in July should have warned the Texans to expect further trouble and caused them to increase the military force, but the poverty of the Republic drove relentlessly in the direction of economy and military insufficiency. All the forces were disbanded save 'the few spies under Capt. John C. Hays at post San Antonio.' Hays was ordered to increase his force to one hundred and fifty men and to keep them constantly and actively employed as spies and Rangers between the San Antonio River and the Rio Grande. Again poverty ruled. Hays could not increase his force because the men were too poor to arm and equip themselves and the state was too poor to pay those already in the service.
In commenting on the situation the secretary of war said: 'Those
7 For a full account, see George Wilkins Kendall, Narrative of the Texan Santa Fe Expedition. For a definitive study of the route of the Texan Santa Fe expedition see H. B. Carroll, 'The Route of the Santa Fe Expedition,' MS., University of Texas Archives.
8 Adjutant General James Davis to G. W. Hockley, secretary of war, July 7, 1842, JournaLs ef the House of Reprtsentatives of the Republic of Texas, Seventh Congress, Appendix, pp. 14—15.
Page 72
who were willing to enlist, were for the most part utterly destitute of means to fit themselves for the field — the government was equally so —it could neither furnish the means to equip and mount a force, nor sustain them for any length of time in the field. The consequence was a second surprise of San Antonio.''
Hays learned on September 10th that General Adrian Woll was approaching the city with a large force and would enter it on the next morning. Apparently Hays had but few men with him, but he called the citizens together, made the best arrangements he could for the protection of the town, and with five men set out to find Woll's army. He failed to find the enemy who had left the roads to approach the town through the hills, but when he returned to San Antonio about daylight on the eleventh he found it surrounded b.y a force estimated at thirteen hundred. He wrote from Seguin on September 12th "I have examined the camp and numbers, I think, correctly. I staid around town all day of the 11th, and have left spies behind, and if I can I will try and watch their approach to this river. All information will be reported every opportunity."
Hays and other couriers spread the word that San Antonio had fallen, and that the district court in session there had been captured. This warcry raised the citizens en masse, and soon many detachments under various local leaders were concentrating on Bexar. Matthew Caldwell raised the warwhoop and brought eighty-five men; he arrived, as usual, among the first, and was elected to command the two hundred and twenty-five men who had assembled.
Woll advanced to the Salado with two hundred cavalry and six hundred infantry, and a general engagement was brought on. On Sunday, September 17, Caldwell wrote that they had fought all day until the enemy retreated, carrying off their dead. 'The enemy are all around me on every side; but I fear them not. I will hold my position until I hear from reinforcements. Come and help me — it is the most favorable opportunity I have ever seen. There are eleven hundred of the enemy. I can whip them on my own ground without any help, but I cannot take prisoners. Why don't you come? — Huzza! huzza for Texas.' In spite of this heroic note the Texans were not without their tragedy. Captain Nicholas Dawson came from La Grange with fifty-three men and attempted to join Caldwell. He was cut off and surrounded by the Mexicans, who kept out of rifle range and turned the artillery on the Texans. Dawson raised the white flag, but it was
9 Report of the Secretary of War and Marine,' November 12, 3842, JownaLs of the House of Represcntatives of this Republic of Texas, Seventh Congress, Appendix, pp. 30—31.
10 Hay5 to the secretary of war, September 12, 1842, Jownals of the House of Represenatives, of the Republic of Texas, Seventh Congress, Appendix, p. 16.
73
fired upon. Only fifteen of the men escaped, many of them being cut down after they had surrendered.11 The Mexicans had sixty killed, including Cardova who had figured in the Cardova rebellion and in the plan for the Indian uprising.
Woll now began his retreat, followed by the Rangers and by Caldwell's force. By this time a company had been organized for Hays with Henry McCulloch as lieutenant; Ben McCulloch also had arrived and was attached to Hays's company. Hays was described at this time by one of his men as follows: 'Captain Jack Hays, our intrepid leader, five feet ten inches high, weighing one hundred and sixty pounds, his black eyes flashing decision of character, from beneath a full forehead, and crowned with beautiful jet black hair, was soon mounted on his dark bay war-horse and on the war-path.12 It is said that General Woll offered five hundred dollars for the head of this youth of twenty-five who hung on his flank and anticipated his movements, who constantly tantalized the Mexicans by drawing them out after him and then driving them back.
When the Mexicans began their retreat, the Texans followed on their heels and finally Hays attempted to take the cannon which was used to protect the Mexican rear. This attempt was described by a participant as follows:
'At length the shrill, clear voice of our captain sounded down the line — "Charge!" Away went the company up a gradual ascent in quick time. In a moment the cannon roared, but according to Mexican custom overshot us. The Texas yell followed the cannon's thunder, and so excited the Mexican infantry, placed in position to pour a fire down our lines, that they overshot us; and by the time the artillery hurled its cannister the second time, shot-guns and pistols were freely used by the Texans. Every man at the cannon was killed, as the company passed it.' 13
When General Woll had withdrawn beyond the Rio Grande, many of the Texans returned home, but a number of them remained around San Antonio to launch the most disastrous expedition that ever went from Texas into Mexico — the so-called Mier Expedition.
The movement on Mexico was initiated and officially sanctioned by President Houston when on October 3,1842 he wrote to Brigadier General A. Somervell instructing him to establish a rendezvous on the southwestern frontier and organize a force for an invasion of Mexico —provided he thought it could be made successfully. 'Our greatest reliance,' said Houston, 'will be upon light troops and the celerity of our
11 Yoakum, History of Texas, Vol. u, pp. 364—365 ,note
12 Morrell, Fruits and Flowers, pp. 168-169.
13 bid., pp. 176-177.
P74
movements.' Houston, knowing the character of the Texans, warned Somervell to enlist no men who were not willing to cross the Rio Grande if ordered to do so. 'If you cross the Rio Grande you must suffer no surprise, but be always on the alert. Let your arms be inspected night and morning, and your scouts always on the lookout.'
In conclusion Houston commended Hays and his men: 'You may rely upon the gallant Hays and his companions; and I desire that you should obtain his services and co-operation, and assure him and all the brave and subordinate men in the field, that the hopes of the country and the confidence of the Executive point to them as objects of constant solicitude. Insubordination and a disregard of command, will bring ruin and disgrace upon our arms. God speed you.' "'
The material out of which Somervell recruited his army could hardly have been worse. The sturdier and more reliable men had left, but a rabble of adventurers and self-willed individuals assembled in the hope of participating in any excitement but with little expectation of subordinating their impetuous desires to the general good. After much confusion and some dissension, seven hundred and fifty men left San Antonio about November i8 and arrived at Laredo on December 8. The following day a number of soldiers plundered the
Journals of the House of Representatives of the Republic of Texas, Seventh Congress, Appendix, ~3. 3 f.
P75
---
One of the Ranger Spies was a Fitzgerald
Ecerpt from http://www.tamu.edu/ccbn/dewitt/dewitt.htm
The spy company was very active and some of them much exposed, a small detachment of them penetrating entirely to the rear of the invaders, observing their strength and the range of their horses narrowly escaped being intercepted and dodged around in a starving condition three or four days before they could rejoin their comrades. The names of two of them were Mike Chevallie and Fitzgerald. Colonel Caldwell being desirous to bring on a fight and not expecting reinforcements in time for the crisis, reorganized his little force more completely. Canan C. Colley was elected major; James Ramsay orderly sergeant. There were Captain Ewan Cameron and his lieutenant Anderson, both Scotchmen, with their company of about thirty experienced soldiers; Captain Dan B. Friar with about forty men from Cuero settlement; Captain Zumwalt and John Henry Brown with about twenty-five men from the Lavaca river settlement; Captain James Bird and Lieutenant John R. King; Captain Callahan and Lieutenant Cusaney with some of the men and boys from Gonzales and Seguin; Colonel J.C. Hays and Captain H.E. McCulloch with their spy companies were always in advance, and the scouts were principally from their companies. There were several very young lads among us, viz: Jesse Zumwalt, Alt Friar, R. Barnett, R. Clark and others. With Americans there were English, Scotch, Irish, French and Germans, in all 203. I like to mention the names of these frontiersmen, as the greater number of them have ended their earthly campaigns. (See also DeWitt Colony Militia Captains)
Engaging the enemy at the Salado. Late on Saturday evening the command took up the line of march, and during the bright
---
William Hesskew page 1
William Hesskew page 2
William Hesskew page 3
William Hesskew page 4
THE SIEGE AND BATTLE OF BEJAR
William Stonell Letters
Arreny Ann Hesskew
Heskew Family Legends
Texas History Main Page
Moses Hesskew
Martha Ann Hesskew
Edward A. Hesskew
Battle of Salado in which William
participated- See Page 2 of
The Journal of James Wilson Nichols

Hesskew Slide Show 1
Hesskew Slide Show 2
Heskew Reunion 2000
Location of Hesskew Springs & Ferry Wm Hesskew owned

History of Castro's Colony
Property Wm Hesskew owned in Gonzales County
Living History Groups
Property Wm Hesskew owned in Gonzales County
Texas History Time Line
More on the Battle of the Salado Creek 1842 - San Antonio Light
Wm. Hesskew's Vasquez Certificate
Read about Wm.'s participation
Hesskew Family
Information by Ruth Claunch
Fandango What it was
like in San Antonio in 1846
A Living History Interpretive Series
by the San Antonio Living History Assoc.
Wm. Hesskew's Call for Convention1835
Hesskew Genealogy
by Marilyn Lane
Raid into Gonzales and
De Witt Counties in 1848
Genealogy: Larrimore, Roberts,
Haskew, & Teague Families
Heskew Connections
Sons of De Witt Colony Texas

William Hesskew Republic of Texas Pension
Reenactment of the Battle of Salado
---
If you are a relative and would like to say hi or contribute to the saga, let me know here at Marvin Schubert, great great grandson of William and Mary Ann.
---
Back to Family Surnames Index
---
---
Page Created 6/2000
Marvin Schubert
Copyright © 1997 [Jack's Publication Enterprises]. All rights reserved.
Revised: June 01, 2004.