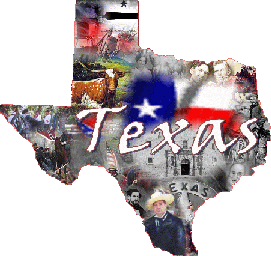 William Alexander Hesskew



and
Mary Ann ( Anne Marie) Tronson

Early Settlers of the
Republic of Texas

William Hesskew was a founding member of the great Republic of Texas. He was born March 13, 1811 in South Carolina where evidence suggests his roots were among the planters of Marlboro County and the old Cheraws District. Growing up in Dallas County, Alabama we know that at some point William contracted "Texas fever" arriving in that then far western frontier by 1835 at the latest, making him a "true Pioneer of the
early West".
(See newspaper article taken from City of Brazoria, Texas, "The Texas Republican", reprinted in the Austin Paper , the "Texas State Gazette" 11,16,1850, which provides evidence of William's presence in Texas as early as August 1835)
William is documented as being in Texas as early as August 1835 as validated by the documents above. Records of the Austin Colony reflect a group of men from Alabama had requested land grants in January of 1830. A William Haskins is listed as one of 19 men from Alabama who were given the terms of 16 months to to move their families to the Colony. It may have been that William was this William Haskins although I have no proof to that effect. Other families and men from the South and Alabama were seeking cheap land and Texas was were to find it. It may be that William visited Texas as early as 1830. If so he would have been 18 years old. The adventure of such an expedition would have surely caught any 18 year olds fancy. He may have come with a group as noted earlier to report back to his father and family. Whatever the reason and what ever the circumstances, William I'm sure was looking forward to the rewards that were great for all who would brave the frontier and risk all in the wild and untamed territory of Texas.
At the time of the signing of the petition in Brazoria, which is 50 miles or so south of present day Houston, William would have been about 24 years old. So picking William backup in Brazoria, Texas, which was the headquarters of Austin's Colony, in August 1835 we find that he signed the petition subscribed to by a hundred and thirty-four citizens from Brazos urging a convention to be held to discuss the possibility of Independence from Mexico. Other communities in Texas were also passing resolutions calling for a convention. Santa Anna the dictator, had dissolved the local Texas government and had tightened the collection of import taxes. More recently, he had promised to send several thousand troops to Texas to deal with the unrest. Mexico 's constitution which allowed states rights had been disregarded by Santa Anna. The Colonist were displeased that they were no longer able to make decisions locally and a call to restore the Mexican Constitution was another issue the Colonist were appealing too. " Some were for independence; some for the constitution of 1824; and some for anything, just so it was a row. But we were all ready to fight. " the prior quote by Noah Smithwick, an early Texas Citizen. ( he first arrived in Texas in 1827 at the age of nineteen, Noah Smithwick was involved many of the events in the evolution of Texas)
The situation in Texas had become precarious with the recent expulsion of Mexican Troops in Anachac by Travis in the Spring of 1835. Many variables were at play that set the stage for the colonist to rebel against the Mexican government. William's arrival in Texas was at time that Legends were being made. Men such as Crocket, Travis and Fannin were to become larger than life, participating in the creation of the "Republic of Texas". William in my mind and his family has taken on these qualities also. He too has become bigger than life and from the perspective of his family, he too has become a Texas Legend. He lived in an era that is romanticized in the written word, enshrined by the Alamo, and glorified by film makers. He, William Alexander participated in this creation. The creation of a new Republic, the Republic of Texas!
In 1835 William joined the many other early volunteers who fought to liberate Texas from the yoke of the terrible Mexican dictator Santa Anna. Enlisting in the "Brazos Guard", documentation indicates he likely fought in the Battle of Concepción and took part in the siege of Bexar (San Antonio) as well. ( See discharge papers from 1835 ) His vigilance did not end with the Texas Independence which he helped to win and was finally gained in 1836. In 1842, William, along with his brother Moses, were members of quickly organized militia groups who along with the Texas Rangers drove invading Mexican armies back across the Rio Grande. These 2 incursions into Texas by Mexican Armies were referred to as the Vasquez and Wolls campaigns. The repulsion of Mexican forces in 1842 ended the last serious threat posed by Mexico against the liberty of the new Texas Republic. The Battle of Salado occurred during the Woll's campaign. William Hesskew's participation in the Battle of Salado is narrated by his commander, James Nichols. William is mentioned twice in this journal!! It is a great story and a must reading for all.) Map of the Battle of Salado Battle Grounds that William and Moses fought at. The Battle is commemorated each year at the original Battle ground on the 18th of September or the closest weekend to the 18th. If you get a chance to attend the festivities in San Antonio on the Weekend of the 18th, do so.
William was an explorer, soldier, scout, Indian fighter, ferry operator, farmer, rancher and surveyor. Besides fighting off the Mexican Army, he had to be ready to protect himself and his family from Indian and bandit raids which occurred frequently on the Texas frontier. One legend has it that he spent time as a Texas Ranger. Capt. Jack Hays, the famous Texas Ranger fought beside William at the Battle of Salado. It is also alleged, and is probable, that he acted as deputy to his brother Moses who served as Sheriff of Gonzales County in 1848. Additionally, William was a member of the Confederate Army, Wilson's Rifles. William applied for and was approved to receive a pension from the State of Texas for his services to the Republic of Texas in Jan 1878. William was a family man. He and his wife Mary Ann (nee Anne Marie Tronson) had thirteen children born to them. Today their descendants number in the thousands, residing in Texas, Arizona, Florida, California, Colorado and other states. After a long and productive life William passed away on October 13, 1891 and was buried in Brite Cemetery of Atascosa County, in his beloved Texas. Scott Hinkle and Marvin Schubert
Mary Ann Tronson left Paris France in the fall of 1842 with her parents and younger brother, for Texas as part of a French colonization effort that was fairly successful. They landed in Galveston on the ship "Ebro" about. the first of January 1843. They were later taken to Matagorda Bay and then preceded by Ox cart to San Antonio.
Picture of William at this location, in my opinion, may be the only likeness of William that I feel comfortable with, while there are several of Mary Ann.
Continued William Hesskew page 2
William Hesskew page 2
William Hesskew page 3
William Hesskew page 4
THE SIEGE AND BATTLE OF BEJAR
William Stonell Letters
Arreny Ann Hesskew
Heskew Family Legends
Texas History Main Page
Moses Hesskew
Martha Ann Hesskew
Edward A. Hesskew

Hesskew Slide Show 1
Hesskew Slide Show 2
Heskew Reunion 2000
Location of Hesskew Springs & Ferry Wm Hesskew owned

History of Castro's Colony
Property Wm Hesskew owned in Gonzales County
Living History Groups
Property Wm Hesskew owned in Gonzales County
Texas History Time Line
More on the Battle of the Salado Creek 1842 - San Antonio Light
Wm. Hesskew's Vasquez Certificate
Read about Wm.'s participation
Hesskew Family
Information by Ruth Claunch
Fandango What it was
like in San Antonio in 1846
.
Wm. Hesskew's Call for Convention1835
Hesskew Genealogy
by Marilyn Lane
Raid into Gonzales and
De Witt Counties in 1848
Genealogy: Larrimore, Roberts,
Haskew, & Teague Families
Heskew Connections
William Alexander Hesskew Texas Ranger
Sons of De Witt Colony Texas

William Hesskew Republic of Texas Pension
Reenactment of the Battle of Salado
---
New Wm Hesskew's Property in Atascosa County
If you are a relative and would like to say hi or contribute to the saga, let me know here at Marvin Schubert, great great grandson of William and Mary Ann.
---
Back to Family Surnames Index
---
Page Created 11/97
Marvin Schubert
Copyright © 1997 [Jack's Publication Enterprises]. All rights reserved.
Revised: January 26, 2002.
This page has been accessed
times since May 1, 2001