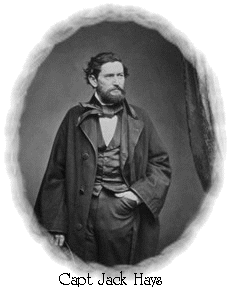 John Coffee Hays
Texas Ranger
1817—1883

Without question, the true story of Colonel Hays was more dangerous and exciting than any western fiction novel. It may well exceed the legend of the man.

Hays is truly one of the icons of early Texas history and epitomizes the brave western hero who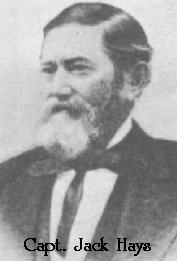 overcomes great odds and triumphs where it seems others would fail.
There are many books written on Hays' life and this short introduction is not intended to try to accont for his many stories here. There are several books and links at the end of this article should the reader wish to read more on the great adventures of Colonel Hays.
John Coffee (Jack) Hays, famous Texas Ranger and Mexican War officer, son of Harmon and Elizabeth (Cage) Hays, was born at Little Cedar Lick, Wilson County, Tennessee, on January 28, 1817. His father, of Scots-Irish descent, fought with Andrew Jackson and Sam Houston in the War of 1812. Hays became the prototypical Texas Ranger officer, and he and his cohorts—John S. (Rip) Ford, Ben McCulloch, and Samuel H. Walker established the ranger tradition. Hays was a man of less than average size. He was exceptionally wiry, however, and had almost supernatural powers of endurance in the rugged west Texas terrain. Hays joined the Texas Rangers in the formative years of their role as citizen soldiers. His rangers gained a reputation as mounted troops with revolvers and individually styled uniforms, who marched and fought with a noticeable lack of military discipline. This rough-and-ready image of an irregular force left its imprint on the chronicles of ranger history.
In the thirteen years that he lived in Texas, Hays mixed a military career with surveying. At an early age he left home, surveyed lands in Mississippi, attended Davidson Academy at Nashville, and decided to cast his lot with the rebels in the Texas In 1836 he traveled to New Orleans and entered Texas at Nacogdoches in time to join the troops under Thomas J. Rusk and bury the remains of victims of the Goliad Houston advised Hays to join a company of rangers under Erastus (Deaf) Smith for service from San Antonio to the Rio Grande, under the orders of Col. Henry W. In this role Hays took part in an engagement with Mexican cavalry near Laredo, assisted in the capture of Juan Sanchez, and rose to the rank of sergeant. After appointment as deputy surveyor of the Bexar District, Hays combined soldiering and surveying for several years. The more he learned about Indian methods of warfare, the better he protected surveying parties against Indian attacks.
"Captain Jack" of the Texas Rangers.
Young Flacco, the Lippan Apache chief who rode as Hays's closest comrade on his early forays against the Comanche, described him best: "Me and Red Wing aren't afraid to go to hell together. Captain Jack, he's too mucho bravo. He's not afraid to go to hell all by himself."
(Library of Congress, Prints and Photo Division, Washington, DC)
In the three-way struggle of Anglo colonists, Hispanic settlers, and Indians, Hays proved to be an able leader and fearless fighter (called "Devil Jack"), who gained the respect of the rank and file of the Texas Rangers. Yet his stature—five feet nine inches—his fair complexion, and his mild manners did not match the looks and actions of the legendary ranger in later popular culture. From 1840 through 1846 Hays, at first a captain, then a major, and his ranger companies, sometimes with Mexican volunteers and such Indian allies as Lipan chief engaged the Comanches and Mexican troops in small skirmishes and major battles. Important military actions took place at Plum Creek, Canon de Ugalde, Bandera Pass, Painted Rock, Enchanted Rock (where Hays made a lone stand that enhanced his reputation as an Indian fighter), Salado (against Mexican soldiers under Adrian Woll), and Walker's Creek. In these battles Hays and his rangers were usually outnumbered, and their effective use of revolvers revolutionized warfare against Texas Indians.
The Texas Rangers gained a national reputation in the Mexican War. Into Mexico rode Hays's rangers. Out of Mexico came a mounted irregular body of rangers celebrated in song and story throughout the United States. This transformation in fact and fiction started with the formation of the First Regiment, Texas Mounted under Colonel Hays. Serving with the army of Gen. Zachary Taylor, the rangers marched, scouted, and took part in the attack on Monterrey in 1846. The next year Hays formed another regiment that participated in keeping communication and supply lines open between Veracruz and Mexico City for the troops under the command of Gen. Winfleld Scott. In doing so, Hays's rangers fought Mexican guerrillas near Veracruz and at such places as Teotihuacan and Sequalteplan. Controversy between the rangers and the Mexican people still lingers, for they robbed and killed each other off the battlefields.
Determined to cash in on the gold rush of 1849, Hays led a wagon train to California. After serving four years as sheriff of San Francisco County, President Franklin Pierce appointed him surveyor general of California in 1853. In this role, he laid out the city of Oakland. In California, Hays acquired a considerable fortune and became politically prominent. He was a delegate to the National Democratic Convention in 1876.
In the years that followed the Mexican War, Hays pioneered trails through the Southwest to California and became a prominent citizen of that state. In 1848 he tried unsuccessfully to find a route between San Antonio and El Paso, and the following year he received an appointment from the federal government as Indian agent for the Gila
River country. In addition, he was elected sheriff of San Francisco County in 1850, appointed United States surveyor general for California in 1853, became one of the founders of the city of Oakland, and ran successful enterprises in real estate and ranching. Though he was neutral during the Civil he was prominent in Democratic politics in California; he was a delegate to the Democratic national convention in 1876. He married Susan Calvert in 1847, and they had three daughters and three sons. Hays died on April 21, 1883, and is buried in California.

Hays made frequent trips back to Texas, but died near Piedmont, California on April 25, 1883. Hays County in South Central Texas, was created in 1848 and named in his honor.
BIBLIOGRAPHY: Roger N. Conger et al., Rangers of Texas (Waco:
TColonel Jack Hayes: Texas Frontier Leader and California Builder exian Press, 1969). James K. Greer, (New York: Dutton, 1952; rev. ed.,
Waco: Morrison, 1974). Walter Prescott Webb, The Texas Rangers
(Boston: Houghton Muffin, 1935; rpt., Austin: University of Texas
Press, 1982). Frederick Wilkins, The Highly Irregular Irregulars: Texas
Rangers in the Mexican War (Austin: Eakin Press, 1990).
The New Handbook of Texas - Texas Historical Association
Handbook of Texas Online: HAYS, JOHN COFFEE
Texas Ranger Hall of Fame - John Coffee Hays
John C. "Jack" Hays (1817-1883)
The Texas Rangers: They Rode for the Lone Star
JACK HAYS: See Book Three yearsith the Comanche.

Vasquez Campaign | The Battle of Salado and Dawson Massacre | Walls Campaign
The Journal of James Wilson Nichols 1820-1887 who descibes his participation in the Battle of Salado Map of the Battle grounds
Webmaster
09/16/09 10:23 AM
This page has been accessed
times since May 1, 2001