Hardie Homer Hutto
&
Dollie Frances nee Newman
Hardie was born 10/12/1879 in Williamson County, Texas around present day Hutto Texas, (east of Austin Texas), Hardie was the eldest of 6 children born to Charles Wesley Hutto and Mary Jane Flinn

both of Hutto Texas. Hardie's parents were from prominent families in Hutto. His paternal grandfather, James E. Hutto, was the founder of the community which bears his name. His maternal grandfather, Dr. John Flinn, a physician, was also a prominent citizen in Hutto. Hardie appears to be named after one of his Grandmother Flinn's favorite cousins, David H. Parker M. D.
Hardie's immediate family, Mom, Dad, Brothers, George, Howard and Sister, Minnie, moved to Washington State about 1903 according to family members for jobs in the logging business. They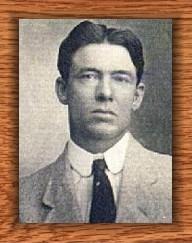 bought a city block of houses in Kelso, Washington where they all lived on the same block together in the beginning.

Brothers & Sisters when children, Picture
As to whether Hardie went to Washington, I'm not sure as he married Edna Leah Waters, in about 1905 probably in Williamson County Texas and had 2 children Inez and Edith. He later separated from and divorced Edna when the children were about 4-5 it is said.
There are stories that Hardie did some cowboying

and was adverse to gambling because he had lost some money playing poker while he was working in California. ( The California story is not well founded in my opinion )
About 1908 or so the Taft Ranch was being broken up into farms. Many of Hardie's Uncles on his mother's side were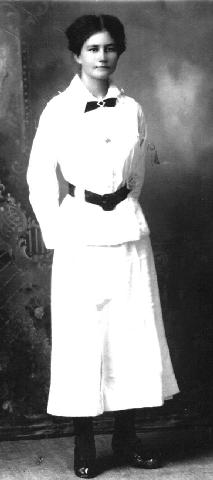 moving from Williamson County to San Patricio County to begin farming the rich soil in the area. Thomas ( Uncle Tommy) Flinn bought property in Taft and helped Hardie get his start farming. Later Uncle Tommy sold some of his property to Hardie. 40 acres I think out of a 160 section. As I understand it, that particular property had oil on it and as such helped Hardie and his family in latter years live comfortable. Hardie and Dollie were able to use their resources to help many family members that experienced the ravages of the depression. Dad said Grandpa Hutto had a new car during the depression and as a child it was a big deal when he and the other children saw him driving it through town. But that was later......in the late 20s and early 30s.
While Hardy was working in the Taft area either for his Uncles or himself, he began to notice a pretty young lady by the name of Dollie Newman.
Seab, Dollie's father was clearing land 3 miles south of the Sand Ridge on the old Cole place. Each day Dollie had to ride past the Flinn place where Hardie was working. Hardie was stricken with her beauty and began tipping his hat to her as she would ride by. They finally met in the cow lot of a neighbor (Mr. and Mrs. Tom Bell) , that lived across the road from the Flinn's place. Hardie, being a fine judge of horse flesh, had come to see Dollie's dad , Seab Newman , about some horses he would be needing in the near future. Seab had a roan and gray horse , named Sid that caught Hardie's eye. Little did he know that Dollie had laid claim to old Sid as her own and so a conflict was in the making . Dollie had insisted that Ole Sid was such a fine horse that whoever got him would get her too boot. Maybe Hardie had heard Dollie say this because Hardie did buy old Sid , and he got Dollie too!
Dollie was married to Hardy H. Hutto

on April 10, 1914 at her home after a 3 month courtship. The Newman family was living at the Sand Ridge, four miles south or Taft at that time.

Dollie and Hardie in Taft as a young couple abt 1916.
Hardie and Dollie were blessed with several children while living in the Taft area.
After a short time Hardie and Dollie bought some additional property in the Robstown area. They soon moved their growing family to the location frequently referred to as the "Home Place". The property is still in the family and Dollie Mae nee Hutto Schubert lives in the home to this day.
Dollie and Hardie were to eventually have 11 children, 10 reaching adulthood.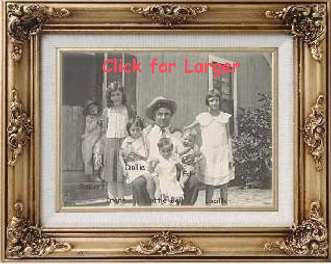 Hardie was a long time farmer in Robstown and Taft Texas. He had many accomplishments during his lifetime. He amassed close to a thousand acres of land and with the oil wells he had later in life was quite wealthy although he lived a simple life.
Here is a picture of men clearing land in Taft, one of his farms.
Here are some pictures of Mules and Men, plowing the fields
Hardie as a young man
One story has it regarding a crooked row that was observed in his field by , Marion Phillips, his Nephew. Hardie said that the crooked row was alright, as it allowed more cotton to grow there.
Link to some Clips from Uncle Henry's Video 1956 and Pogo Stick
---
The Poker Game
In September of 1998, Aunt Irene, Aunt Lucille and Mom told me the story of the Poker Game. They shared that once when Patrick Hardy Flynn, Hardie's Uncle, and Clara Leta his wife, had come to visit the family after Charles L. Flinn's death, probably in regards to the disposition of the estate, they said the weather turned bad. Patrick ended up getting stuck at the old farmhouse outside of Robstown for a week. The roads were mostly dirt back then and impassable.
They said Grandpa was opposed to gambling and associated cards with gambling I quess, although he had no objections to playing dominos. (Must have been that Methodist upbringing ) Aunt Irene said Grandpa had lost some money when he was cowboying it in his younger days and that was the reason for his opposition to playing poker.
They went on to share that My Grandmother would play Poker with the children to wile a way the time in the absence of my Grandfather of coarse. They used matchsticks as chips to play. The winner was the one with all the matchsticks They would keep look out for my grandfather coming down the old farm road towards home and would have everything hid before he arrived.
While Patrick Hardie was visiting , Aunt Irene said that he pulled the Radio out from the wall for some reason and found the cards hidden there. He was said to have exclaimed, " Why I wish you guys had told me you had some cards, we could have been playing....." Something to that effect.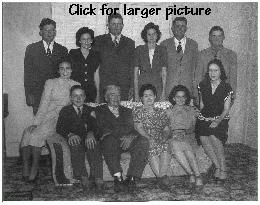 Later as the story goes, in regards to the Poker playing. Grandpa finally caught the poker game in full swing. He turned the lights off to his car as he approached the house one night, and caught my Grandmother and the kids playing Poker. After Grandpa scolded her, she, Grandma, responded that " if he didn't like it, he could stay home with the kids, and entertain them. But that they had to be entertained some way."
Manners
My Aunts said that while Patrick Hardy was there that the children were told to put on their best manners.
While at the eating table, my Uncle Robert was supposed to have said he needed to be excused. Tom, who was always a cut up, chimed in, " When you have to go, you have to go" followed by a hearty laugh that he was notorious for. Evidently every one had a good laugh as a result of Tom's infamous MANNERS.
---
The infamous Barrel
A short little walk down memory lane and what
an old Barrel was used for at the home place
Letter from Hardie Hutto
to Irene Krumrey in 7/19/44
---
Hardie and Dollie's children listed below
---
(1.) Charles Wesley Hutto
Married (Juanita) Bertha Verna Juanita Coker
Children: Charles, Doug, E.H.
---
(2.) Hardie Homer Hutto Jr. Family photo from 1947
Married to Verline
Children: Hardy, Vivian ( Susie), Howard, William (Bill)

---
(3.) Irene Hutto

June 20, 1916 Irene on the left, Dollie on the Right at the old home place.
Married to Henry Krumrey
Children: 5- Frances, Joyce , Barbara, Henry, Mary
---
(4.) Lucille Hutto born in 1919
Married to Luke Peoples
Children: 4 -Winston, Wanda, Wayne, Kathy
---
(5.) Thomas Howard Hutto ( Cog wheel)
Married to Lois Elaine Farmer (Happy)
Children : 1- Tommy
---
(6.) Robert Hutto


Married Marjorie Dawn Miller , August 17, 1946
Children: 4 - Robert, Kenneth, Jerald Andrew Hutto, Leonard
---
(7.) Dollie Mae Hutto
Married to Talford (Chatter) Lee Schubert
Children: 6 -Talford Lee Jr., Marvin Ray, Bruce Edward, Richard Allen, Rebecca Ann (Becky) , Robert Rodney
---
(8.) Lottie Belle Hutto
Married Olan HOFF had 5 children
Married Charles Ferk had two children
Married James MONSE had 1 child
Children: 8 - Olan HOFF Jr. a.k.a., (Butch) HOFF, Larry HOFF, Linda HOFF, Leslie HOFF, Michael Lee (Crockett) HOFF , Viki Ferk,Charles (Charlie Ferk, James MONSE
---
(9.) Mary Hutto
Married Eugene Robert Wolter from Bishop, Texas
Children: 6- Mary Jean (Jeannie) , Robert (Bobby), Hardie, Daniel (Dan Boldy), Cynthia (Cindy), Frances
---
(10.) James Edward Hutto


Married Joyce Chapman
Children: 2- Deborah and James Edward Jr
---
(11.) Baby died at birth
---
Hardie Was born in Williamson County near Hutto Texas. He raised his second family outside of Robstown , Texas
Died 5/14/57
Buried in Robstown, Texas
Children - 13, 2 by first marriage, 11 by second, 11 children of Dollie Frances Newman
Hardie Homer's Grandfather was the Founder of the City of Hutto Texas. Read more about his grandfather here, Hutto's of Texas.
Harriet Burandt, one of Hardie's grandchildren has written 9 family stories loosely based on the adolescent years of Harriet (Frances)'s mother, Irene Hutto. These children stories about the old home place are called Tales from the Homeplace .
---
---
 Genealogy Resources on the Internet 
---
Page Created 11/1/97
Marvin Schubert
Copyright © 1997 [Jack's Publication Enterprises]. All rights reserved.
Revised: February 24, 2011.
If you have comments or suggestions email me at Marvin Schubert
This page has been accessed
times since May 6, 2001