Thomas Henry Flinn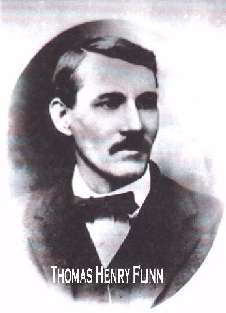 1865-1930
---
Thomas Henry Flinn was the son of Dr. John C. Flinn and Susan McGuire. He was born in Bolivar, Tenn. in 1865.
Thomas Henry left a handwritten dairy which, in short, tells of his arrival in Texas in 1869 after six weeks in a wagon. They landed in old Round Rock on Jan 1, 1870 and soon moved south of where Hutto now stands into a double log house on the grounds where the Swedish Cemetery is now located. In 1871 moved to Gunn(?) farm about halfway between Round Rock and Georgetown and lived in that house for two years. In 1873, his father bought 50 acres eight miles southeast of Hutto and lived there until 1879. His father then bought a tract of land four miles south of Hutto where Thomas Henry lived. He graduated with honors from Round Rock Institute in 1885. In 1886 went to work for Thomas M. Metcalf who had a General Merchandise Store, Post Office and telephone in Hutto. In the summer of 1889, he was forced to resign because of ill health and went to Monterey, Mexico to the Topochico Springs where he recuperated for over a month. May Flinn said it was thought he had spinal meningitis.
He returned home, not able to resume work. In December he began a school at Brushy Chapple school house located about three miles west of Hutto. He boarded with Mr. John A. Harris for $8.00 a month room and board. In the summer of 1890, following the closing of that school, he taught a three month school on the Whettle and Harrell ranch, later known as "the lease", located about four miles northeast of Hutto. He boarded with brother Curt and family. In the winter of 1890 he opened a school at Shiloh, 3 miles southeast of Hutto on the North branch of Brushy Creek and one mile north of his father's farm where he lived.
After closing this school in the spring of 1891 he "took charge of Smith Johnson's Drug Store in Round Rock". He consolidated this Drugstore with Dr. J .H. Johnson's Drugstore. He managed the store until June of 1892 when he resigned and went to work with his Brother George in his Drugstore in Hutto.
In the fall of 1892 he opened a school at Burnops (?) school where he taught 5 1/2 months, living at his fathers. While engaged with this school he was appointed Postmaster at Hutto He was Postmaster for over 4 years. In 1896 he bought an interest in Brother George's Drugstore.
In 1898 he ran for County Tax Assessor of Williamson County, he "won the popular vote but got chiseled out of the position in the county convention".
He bought back into brother George's Drugstore and in the fall of 1898 . In the fall of 1899 his health failed him again and he sold the Drugstore.
He then bought an interest in A. L. Kimmons Apairy at Coupland and moved to Coupland. (Abraham Lincoln Kimmons was his wife's brother).
In that summer he sold his interest back to A.L.Kimmons and moved back to Hutto, going to work for Landa. Co., locally. Worked for him until 1902, when he bought the "Hutto Enterprise", plant and all and ran the paper for about one year. He sold it and went back to work for Mr. Landa until early summer of 1903 when he had to take back the paper and plant. He ran it for about eight months, leased it and ran for County Clerk. He was elected and took charge December 1, 1903.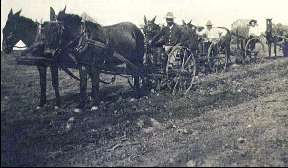 He voluntarily relinquished the office in 1912, he remained in Georgetown through 1913 spending most of his time at the farm. He moved to Hutto in 1914 and lived there until May 1918, In February 1918 he went to work in the Tax Collector's office in Georgetown and moved back to Georgetown.
In May of 1919, he moved to Corpus Christi. He, his brothers Charles and John and sister Margaret had bought farms when the Taft Ranch was divided and sold. After the September 14th storm he moved back to Hutto, where he served as Mayor for 2 or 3 years.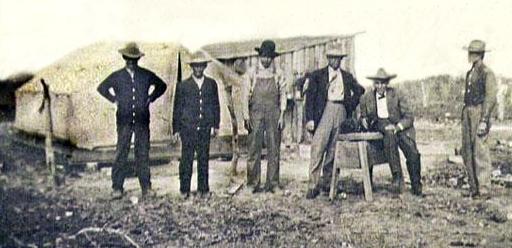 He moved to Austin in 1923. He stayed in Taft all that fall and winter while building a house in town . He moved his family to Taft in 1924. He moved back to Austin where he stayed until his death in 1930.
Thomas is sitting in the photo. This picture is presumed to be takin in Taft during the time Tommy was putting the land into cultivation. Hardie Hutto, Uncle Tommy's nephew, is presumed to be in the pictures with Tommy above. Tom Flinn helped Hardie get his start in farming by selling him 40 acres of the property he had cleared in Taft.
Descendants of Thomas Henry Flinn

1 Thomas Henry Flinn b: February 04, 1865 in Bolivar, Tn
.. +Eldora Mae Kimmons b: May 14, 1871 in Texas m: July 08, 1894 in Hutto, Williamson County, Texas
... 2 Thomas Hance Flinn b: June 16, 1895 in Hutto, Texas
....... +Margaret Annie Bowden b: July 15, 1896 in Austin, Texas m: February 22, 1921 in Hutto, Texas
... 2 May Flinn b: June 19, 1900 in Hutto, Texas
....... +Sam Bennett b: October 17, 1902 m: March 07, 1925 in Hutto, Texas
... 2 Luther Charles Flinn b: September 09, 1903 in Hutto, Texas
... 2 Owen Renshaw Flinn b: May 12, 1906 in Hutto, Texas
....... +Florine Gilliand b: October 19, 1908 in Taft, San Patricio County, Texas

Thomas H. Flinn's Obituary #1 | Thomas H. Flinn's Obituary #2 | Picture of Thomas with his brothers in 1925
---
Flinn Family | Pictures and links to pictures of the Flinn Family | Dr. John C. Flinn and Susan McGuire