Work for Her
By BETTY MacNABB
A sprightly little lady with a heart as big as all outdoors is going to her 89th year, still' doing things for other people just as she has for the past 21 years. Mrs. W. T. Jarmon, who lives with her sister, Miss Flynn, 80, at 3912 Avenue F doesn't see anything so unusual about her weekly visits to sewing room run by the city's United Churchwomen. Nor does she think it strange at her age to spend her spare at home making quilt tops and piecing quilts to be given to the poor. Of course, she has to take it a little slower now since she has to use a cane now. She broke some bones in a fall a year ago, spent seven weeks in a hospital, then several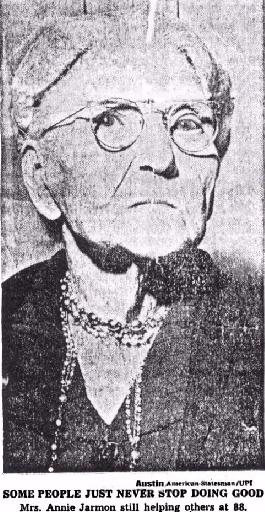 months in a chair.
But she's back up and doing now, and means to make the most of her newfound freedom with the cane. Mrs. Jarmon was born In Williamson
County on Dec. 1, 1873. Flynn, 80, at 3912 Avenue F, one of the seven sons and six daughters of a country doctor plied the back roads of Central Texas in a horse and buggy.
Little Annie Flynn went to a one -room country schoolhouse for the "schooling" she ever received, but she didn't quit learning when she left it.
Along about 1894, the blue eyed Flynn girl was in Manor when she met a young Travis County farmer, W. T. Jarmon. They were married in 1895 and spent the next 30 years farming and raising a crop of seven children.
In 1926 or '27, they sold the farm and moved to Austin. For the next 21 years, Jarmon worked as night watchman at E. M. Scarbrough & Sons, until his death in 1948. Since that time, Mrs. Jarmon has lived with her younger sister (undecipherable) doing things for others. The two elderly ladies do all their own housework. Mrs. Jarmon is a devoted member of Shettles Memorial Methodist Church, and it was through her church that she got into the Thursday sewing bee. Last year, despite her fail and semi-crippled condition, Mrs. Jarmon and her sister together accounted for 140 dozen "cancer pads," made of old sheets and cotton batting, during their Thursday labors. The pads are given to the Cancer Society, sterilized and used as dressings.
That doesn't count all the mending of used clothing, nor the corn-forts and quilts they made. "Land sakes, we never waste anything that's turned in to the sewing room," Mrs. Jarmon says firmly.And how does she get back and forth to her sewing meetings? Mrs. Jarmon looked a little sheepish.
"Well, I tell you, I sort of have to depend on other people for transportation since I had that fall. My sister and I used to catch the bus, but since I've been hbbing around I can't climb up on time things."
---
FLINN surnames Dr. John Carroll Flinn
Selected Civil War Photographs Home Page
---
Marvin Schubert
Copyright © 1997 [Jack's Publication Enterprises]. All rights reserved.
Revised: January 26, 2003.