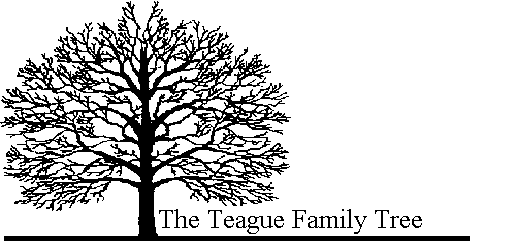 Teague Family Origins
The following was taken from "The Teague Family" magazine
This being our first issue of "The Teague Family" magazine, it contains information on the Teagues in general but we are especially proud to bring to you the contents of a genealogy on a Northern branch of the Teagues that was published nearly fifty years ago. This and other such information will be our way of trying to bring to our members, the full and true story of how the Teague families developed and expanded during the past 300 or more years in this country.
By the records, we cannot prove that our ancestors were among those who arrived on the Mayflower at Plymouth Rock, Mass, in 1620 - and by a lack o records we cannot vouch for the fact they may have come with the first settlement to James City, Va. in the year 1607, but the evidence is, - they were here some year in advance of the dates on the records that we have found, but, be that as it may, our research on the subject continues.
For those of you who have joined with us as members of this new venture to establish a permanent Teague Family Memorial Association, our thanks are extended to each and everyone. You have proved that it could be done and we are on the move as evidenced by this first publication.
To the records that were donated to the Association by the officers and other the time of the incorporation, these have now been increased to a considerable extent by a similar donation from John Randolph Teague of Henderson, N.C. on May 20, 1968. Now in his 84th year, and a collector of Teague data for many year his collection also included that of Mrs. Grace T. Pompilly deceased, of Pasadena Calif. How he came into possession of the 'Pompilly Papers" that lay dormant for thirty years, (and presumably lost), is a story within itself and we hope to include this in our next publication.
For those of you who haven't joined the Association, it is not too late as we have had extra copies of this issue printed. Your name as a member would then be included in our next publication - October 1968.
After reading this issue, keep it as your permanent Teague family record an bind it with the next three publications to make a 'Volume'. Eventually we will bring you the record of every Teague family in the United States.
To carry out our projects as listed on page 4, we need additional members to support this work. Your help is needed to get other members of your family to join with us.
Our project before the next issue: "Every Member Add a Member" are a permanent organization as of the date we incorporated. With the help and assistance of the younger generation of Teagues, we could be a permanent Organization for all time to come.
This is truly a 'Non-profit organization" without profit, gain, or salary anyone
Carroll Hudgens Teague
---
Record of the first Teagues
The first Maryland settlers arrived from England in 1633 in two ships. The smaller ship being the DOVE and the larger the ARK. These orginal settlers first landed on the small island of St. Clements in the Potamac River. They used it as a base of operations, building a small fort for protection and the next spring embarked on possessing the surrounding countryside on March 25, 1634.
The record of the first Teagues to emigrate from England and settle in Virginia are recorded in Patent Book No. 3, an outline of which is contained in a book "Cavaliers and Pioneers". These Teagues were "Indentured" or obligated to labor for a certain period of time after which they would become free to take up land of their own; - either by assignment, warrant, patent, or purchase.
The names of those Teagues listed therein are as follows:
November 27, 1652
John Teague, one of a party of ten persons transported by Edward Revell to 500 acres in Northampton County, Va., a neck of land parted by a branch of Pangotege Creek, from Land of Anthony Hoskins. Due by assignment from his father Randall Revell.
November 29, 1652
John Teagg, one of a party of 9 persons transported by Andrew Munrow (Monrow) to 440 acres in Northumberland County, Va., N.E. upon a Creek issuing out of the Potomack River and S.E. upon his own Plantation.
August 28, 1655
Dennis Teague, one of a party of 12 persons transported by Richard Price, son of Arthur Price deceased, to 600 acres on SW. side of York River, New Kent County.
March 16, 1657
John Teague and Edward Morgan, 150 acres on North side of Horne Harbour Creek, beginning on the riverside at a former development purchased by them of Lt. William Worlick. Transfer of three persons, - Jno. Peade, Richard Cherry, Wm. Smith.
September 25, 1663
George Teague, one of a party of 13 persons transported by Mr. John Lawrence to 625 acres on the West side of Chawanoke River, running S.W. along land of Mr. Robert Lawrence.
September 26, 1664
John Teague, one of a party of 20 persons transported by George Bryer and Richard Lawrence to 1,000 acres in Rappahanocke County on the North side of Rappahanocke River, upon the North side of Rappahanocke Town.
---
If you have comments or suggestions email me at jack0204@yahoo.com
---
Marvin Schubert
Copyright © 1997 [Jack's Publication Enterprises]. All rights reserved.
Revised: January 17, 2008.
---
Our Sponsor