---
---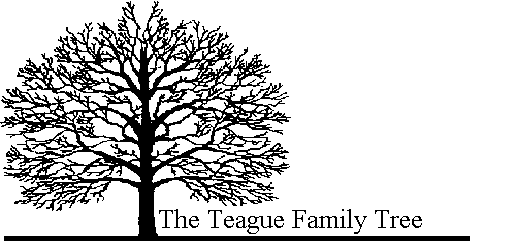 MAY 26, 1762

WILLIAM TEAGUE TO JOSHUA TEAGUE

On File - Rowan County. North Carolina - Deed Book 4, Page 754

To all whom it may concern, I William Teague of Rowan County and Province o, North Carolina, send greeting. Know ye that I the said William Teague for and in consideration of the natural love and affection which I bear unto Joshua Teague and also for other good causes and consideration, me thereunto moving, hath given and granted, and by these presents do give, grant and confirm unto the said Joshua Teague, all my goods and chattles, lands, and all my other substance of what kind nature and quality so ever the same are, and in what place or places, soever the same shall be found, as well as in my own custody of possession, or in the possession hands, power and custody of any other person or persons whatsoever, or all those goods and chattles in the schedule thereunto annexed mentioned: To have and to hold all and singular the said goods, chattles, lands debts, and all other the aforesaid premises unto the said Joshua Teague, his executors, administrators and assigns, to his and their own proper use and uses forever: and I, the said William Teague all and singular the aforesaid goods, chattels, premises and, to the said Joshua Teague his executors, administrators and assigns, against all persons do warrant and do forever-defend by these presents, - In witness whereof I do hereunto set my hand and fix my seal this 26th day of May in the year of our Lord 1762.
John Swaim
William T Teague
Elijah Teague
William Swaim
North Carolina Rowan County - July Term 1762
This is to certify that the within Deed of Gift was proved in Open Court by the Oaths of John Swaim, and recorded in the Clerks Office of Rowan County according to Law. Let it be registered.
John Frohock C.C.

This document and the one that follows is the proof that Joshua Teague (1732 (?) - 1804-8 (?) is the son of William Teague (1693 (?) - 1775 (?)
Page 81
Excerpt from Teague Family Magazine



Back to Teague Family
---
If you have comments or suggestions email me at jack0204@yahoo.com
---
Marvin Schubert
Copyright © 1997 [Jack's Publication Enterprises]. All rights reserved.
Revised: February 22, 2001.
---
This page has been accessed
times since 2/22/01